Published: Mar 20th
This Saturday (25 Mar) is our local veteran home visits. We will be meeting at Jersey Mikes at 0900 with KSU at 0930. We will thank each veteran for thier service and present them with a certificate. After the veteran home visits we will be having a social lunch at Mission Barbeque. Hope to see you there!
Published: Mar 19th
Mr Kates was Awarded the Pride in the American Flag Award.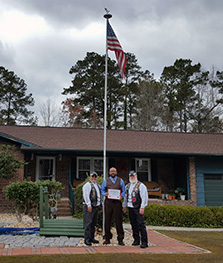 Published: Mar 14 & 15th
If you plan on joining us for Rolling Thunder XXX please email the president.
Published: Mar 13
Hound Dog received his Rocker & Eagle at March Meeting
Published: Mar 13th
Contact your Representative, call, meet with them, or email their  DC and DISTRICT office and  tell them to Cosponsor H.R. 504.
H.R. 504's purpose is to amend title 36, United States Code, to require that the POW/MIA flag be displayed on all days that the flag of the United States is displayed on certain Federal property.
Sponsor is Lance, Leonard [R-NJ] and cosponsors are Rep. Jones, Walter B., Jr. [R-NC] and Rep. Rice, Kathleen M. [D-NY]
Latest Action: 02/06/2017 Referred to the Subcommittee on the Constitution and Cival Justice.
Published: Mar 9th
H.R. 1379's purpose is to amend title 38, United States Code, to provide for the entitlement to educational assistance under the Post-9/11 Educational Assistance Program of the Department of Veterans Affairs for members of the Armed Forces awarded the Purple Heart.
Sponsor is Rep. Peters, Scott H. [D-CA] and cosponsors are Rep. Walz, Timothy J. [D-MN], Rep. Mast, Brian J. [R-FL], and Rep. Bergman, Jack [R-MI].
Latest Action: 03/09/2017 Referred to the Subcommittee on Economic Opportunity.
Published: Mar 1st
Reminder: If you will not be attending RTXXX or RTXXXI please turn in your security patch to your respective board member. If you plan on working security at either, you may keep the patch.
Published: Feb 28th
MSgt John Buquet could use your support by sending him a get well card. He is a 94 year old retired WII veteran who has recently been hospitilized. Please refrence the e-mail sent 28 Feb for the address or reach out to the WEBMASTER and we will be happy to provide it to you.
Published: Feb 27th
The Remains of a Marine shot down during Vietnam War are heading home after 48 years. More details can be found HERE.
Published: Feb 27th
RTXXX Rooms at Hyatt update: All rooms at the reduced rate have been booked up. If you are wiling to share a room with another member please reach out to the PRESIDENT.
Published: Feb 27th
2/2 Patches are in! E-Mail the QUARTERMASTER if you would like one while they last.
Remember that everyday 22 military personnel whether active or not commit suicide to escape the many issues that have arisen.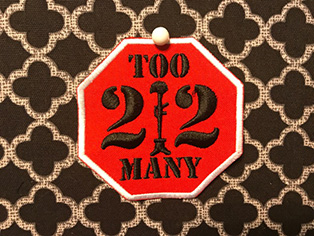 Published: Feb 26th
Click HERE for more informaion about the Veterans Benefits Action Center on Mar 30, 31, and Apr 1st at the American Legion Post 10.

This is a great and unique opportunity for eligible veterans and their dependents to be assisted by a combined team that includes Veteran's Organization Service Officers, Dept. of Veteran Affairs, Benefits Officials, and Healthcare Representatives. These representatives can help facilitate and expedite your new or existing VA Disability claims, appeals, or other healthcare concerns.
Published: Feb 26th
For all Navy Retirees who have served in the Camp Lejeune/Cherry Point area AND all Navy Retirees who want to attend click HERE to view this year's Retired Navy Downeast'r (Navy Retiree Reunion) information.