Published: Apr 3rd
The Carolina Forest Elementary School Table Ceremony scheduled for April 6th is temporarily postponed.
Don't forget that we have the Onslow Memorial Easter Bunny Ride this Saturday April 8th. Meet at Jersey Mikes 9:30AM.
Published: Apr 1st
For those who ordered RTXXX pins and patches bring your money to the Treasurer at the meeting on the 10th.
Published: Mar 31st
NC-5: This year is flying by.. April is here with May right behind.. I wanted to get a note out to all, to keep you updated on the events for us this month.
We currently have 30 on the list to go to DC for RTXXX this year, which is great. And there is talk around of several doing the "Run for the Wall" next year so ask around if you are interested.
April 1st 11:00 Funeral for SgtMaj Timothy Jay Rudd at Jones Funeral Home. 12:00 Reading of the Names for NC (39) Vietnam Vets.
April 8th 9:30 Easter Bunny Ride for Onslow Hospital, meeting at Jersey Mikes, KSU 10am to hospital. Pam will have a meal for us. Bring lots of stuff animals they are out.!!
April 10th 7pm Monthly Chapter Membership meeting at the DAV hall.
April 29th 10:00 Vietnam Veteran's Recognition Day at the Lejeune Gardens-Meet at City Hall at 9am, KSU 9:30..will need to the table and chairs setup complete prior to the event.
Looking forward to giving out patches at the next meeting…Boot patches to Ms. Vickie Gibson and Ms. Arlena Smith. And Back Patches to LJ Foskey and John Praga. !!
Thanks again for those 26 who came out to see our local veterans in the rest homes in town, it brought smiles and joy to their hearts to see another vet who cares. We will be visiting Kinston in June.
Keep doing the good stuff for our veterans..
Published: Mar 28th
Unemployment Eliminators, LLC will be hosting a Veteran's Job Fair on April 19, 2017 at the Jacksonville Conference Center, 800 New Bridge Street, Jacksonville, NC 28546. As always all Job Seekers are welcome to attend.
Published: Mar 22nd
Farmer/Veteran, an independent documentary film, is about one Veteran's post-deployment struggle with PTSD and other issues. The filmmakers are committed to distributing this documentary for free to audiences in North Carolina with the hope that this documentary will initiate a dialogue about how communities might improve care for Veterans and their families. According to the film's website: "Home from three combat tours in Iraq, Alex Sutton forges a new identity as a farmer, hatching chicks and raising goats on 43 acres in rural North Carolina. He dives into life on the farm with his new love Jessica, but cannot shake the lingering traumas of war. The stories he tells about battlefield experiences become unmoored from reality as he cycles between states of heightened awareness and "feeling zombified" from a cocktail of prescriptions meant to keep him stable." PBS will nationally broadcast the film on Memorial Day to an estimated 2.5 million viewers. See the trailer or view the full one-hour version. The password is sutton.
Published: Mar 19th
Mr Kates was Awarded the Pride in the American Flag Award.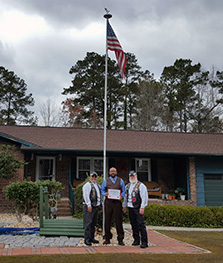 Published: Mar 14 & 15th
If you plan on joining us for Rolling Thunder XXX please email the president.
Published: Mar 13
Hound Dog received his Rocker & Eagle at March Meeting
Published: Mar 13th
Contact your Representative, call, meet with them, or email their  DC and DISTRICT office and  tell them to Cosponsor H.R. 504.
H.R. 504's purpose is to amend title 36, United States Code, to require that the POW/MIA flag be displayed on all days that the flag of the United States is displayed on certain Federal property.
Sponsor is Lance, Leonard [R-NJ] and cosponsors are Rep. Jones, Walter B., Jr. [R-NC] and Rep. Rice, Kathleen M. [D-NY]
Latest Action: 02/06/2017 Referred to the Subcommittee on the Constitution and Cival Justice.
Published: Mar 9th
H.R. 1379's purpose is to amend title 38, United States Code, to provide for the entitlement to educational assistance under the Post-9/11 Educational Assistance Program of the Department of Veterans Affairs for members of the Armed Forces awarded the Purple Heart.
Sponsor is Rep. Peters, Scott H. [D-CA] and cosponsors are Rep. Walz, Timothy J. [D-MN], Rep. Mast, Brian J. [R-FL], and Rep. Bergman, Jack [R-MI].
Latest Action: 03/09/2017 Referred to the Subcommittee on Economic Opportunity.
Published: Feb 26th
For all Navy Retirees who have served in the Camp Lejeune/Cherry Point area AND all Navy Retirees who want to attend click HERE to view this year's Retired Navy Downeast'r (Navy Retiree Reunion) information. This years celebration will be April 29th.